Hi there,
I join this forum for the first time so first hello everybody!
I'm from France so my english speaking may sound a little rotten..sorry for that.
I would like to know if someone has ever experienced the fitting of a double spark racing head on its Vega and if yes could he give some advices , infos etc about the ignition system it requires.
Regards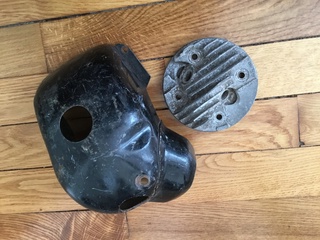 Posts

: 1


Join date

: 2016-10-27



Welcome John. I've never seen one but there are plenty of tuning guys and girls on here that love finding more power. There have been some conversions using the 125 Special head as it has a central 'squish' this requires plugging and redrilling the stud holes to suit the Vega barrel spacing.
Paul



Posts

: 293


Join date

: 2012-04-16


Location

: Surrey



alan gardner will be overjoyed with this, hes said for years about a twin plug head, but no ones seen one before.
nice find john.

just shown Alan this, he says his old one was the same, and from rafferty newmans wildcat conversion.
both plugs never fired at the same time, one was for normal use the other for fast road use, one plug was 16mm thread size from a Honda 50 and the other was a standard21mm plug.

Hi John
That is a good find.
I can't contribute anything to the use of it but would imagine if you could run it with the new advance \ retard electrical system, it would make swapping between the plugs more beneficial.
Let us know how it runs please.



Posts

: 183


Join date

: 2014-12-01



Heres another example
it was fitted to this old race scooter



Posts

: 881


Join date

: 2010-06-28


Age

: 47


Location

: Luna Base Alpha



great pics, first time ive seen one.
Hi,welcome.
I don't see how a twin plug on a single cyl would work? Unless as already said a different plug for separate uses. That said wouldn't timing be have to be different for each plug to gain anything of an advantage?



Posts

: 740


Join date

: 2010-06-26


Age

: 55


Location

: No 20 on Moonage Daydream Harrogate n.yorks




---
Permissions in this forum:
You
cannot
reply to topics in this forum